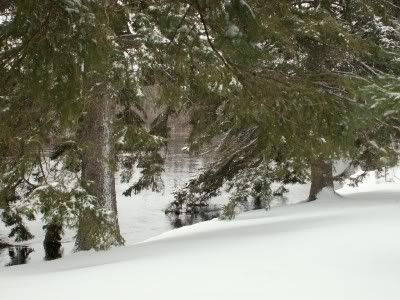 We have had a busy weekend! The news was reporting that the Prairie River was under a flood warning, just North of us...and sure enough...it has caught up to our location! The geese and ducks are in Heaven but we have a few concerns! Being that the river is only 55 yards from our front door can be a little unnerving, but we have a small hill as a barrier that protects us...so far. As far as our basement...yup...we have water coming in. Our home was built in the 50's, so we are fortunate that it has maintained itself, thus far! I've been moving things (of course this leak is in our storage area) and thankfully so far...it has just been boxes of my candle jars. I had the brains to put clothes etc...in those handy dandy

Rubbermaid

totes! Check out how far out our dock looks...thankfully, it is on barrels and is a 'floating' dock. We have learned from past years that when the icebergs and uprooted trees come floating down...they rip out measly docks, in a hurry! So...all this to say, that our May 3rd opening of the cabin is cancelled. We need to keep the driveway fairly

usable

and we are supposed to get more rain and snow throughout the end of this next week. Please feel free to check out our booth at Log Cabin Gifts and I am working on another fun location in town, too!